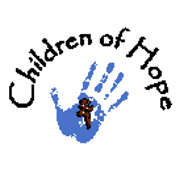 Changing the World One Child at a Time Through Jesus Christ
Children of Hope Inc. is a non-profit organization founded in September 2001 to bring hope to Hamblen County's youth.  Over 50 volunteers serve hundreds of youth each year.  Located in Morristown, TN, Children of Hope specifically reaches into "at-risk" areas of the community recruiting youth (Ages 4-18) into our programs.  All activities, incentives, and mentoring focus on five major areas of growth and development: physical, mental, social, educational, and spiritual.
Life seems hopeless in the eyes of many youth.  At Children of Hope, we consider "youth" as that phase of life where dreams are built, hope is kindled, and a bright future is foreseen.  Harli, 9th grader, placed a homemade gift and card in Millie's hand.  Millie, Children of Hope mentor-teacher, opened the card.  A portion of the card read, "Thank you for being there for me through all the hard times.  I know now, we can't keep that door open from the past.  We have to shut it- lock it- and get rid of the key.  We wait on the Lord to open the future.  I remember, 'Do not let anyone look down on you because you are young, but set an example for the believers in speech, in conduct, in love, in faith, and in purity; Timothy 4:12.'  Thank you, Millie."  She drew a shattered heart and wrote "God" in the center.
These years of youth are critical in fostering moral principles, constructing a value system, and beginning a journey on the path of the 'right'.  This is our passion and mission at CHILDREN OF HOPE.   Would you consider helping us CHANGE this world one child at a time? Would you help us to bring HOPE to the HOPELESS? Visit www.childrenofhopeinc.org for specific program details.
I'd like to register and fundraise for Children of Hope!
Click here to download the 8.5×11 Children of Hope Inc. promotional poster
Click here to download the 8.5×11 Children of Hope Inc. promotional poster