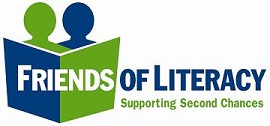 Friends of Literacy is a local non-profit that has been operating for over 23 years.  Since 1991, Friends of Literacy (FOL) has been a resource for adults in Knox County, Tennessee, who are under-educated or illiterate. Working in partnership with area adult education providers, FOL offers free literacy and high school equivalency diploma (GED and HiSET) classes at locations throughout Knox County.  Additionally, FOL's NEXT STEP program helps GED/HiSET students and recent graduates transition to post-secondary education and/or the workplace.
The benefits of literacy include opportunities for educational advancement, a decrease in the intergenerational cycle of poverty, raise workforce effectiveness, and increase chances for better job opportunities and higher earnings.
Visit Friends of Literacy's website to learn more, www.friendsofliteracy.org
I want to register and fundraise for Friends of Literacy!
Click here to download the 8.5×11 Friends of Literacy promotional poster
Click here to download the 11×17 Friends of Literacy promotional poster