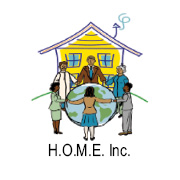 Hall Oldfield Maryville Empowerment Inc. (H.O.M.E. Inc.) is a non-profit organization designed to empower the residents of Blount County with a special emphasis upon the strategic revitalization of the Hall, Oldfield, and Maryville communities.  Formerly known as the Hall Oldfield Community Organization, the restructured community group seeks to guarantee that the social, political, economic, and cultural needs of the underserved citizens of Blount County in Tennessee are met in a timely and equitable fashion.  An interracial organization, H.O.M.E. Inc. exists to improve the lives of the underserved and visions a transformed county by promoting safe and appealing neighborhoods for the underserved. We will develop strategies for the inclusion of persons of color, persons of modest income, and persons historically underrepresented in the workings of public and community policies.
We are community persons of like interest that will promote the common good for our neighborhood and citizens. We will promote home repairs that will improve the neighborhood.
I want to register and fundraise for H.O.M.E, Inc.!
Click here to download the 8.5×11 H.O.M.E. Inc. promotional poster
Click here to download the 11×17 H.O.M.E. Inc. promotional poster